01:19:28 27-01-2023
USD/CAD Price Analysis: Tumbles below 1.3400 with bears targeting the 200-DMA
USD/CAD surrendered 1.3400, as buyers could not break the confluence of the 20 and 100-day EMAs.
USD/CAD Price Analysis: Upward biased, but once it falls below 1.3225, a move towards 1.3000 is on the cards
The USD/CAD extended its losses on Thursday after hitting a daily high of 1.3407, though as the Asian session begins, it's almost unchanged. Additionally, the 20-day Exponential Moving Average (EMA) is crossing below the 100-day EMA, a bearish signal, suggesting further downside pressure lies ahead. At the time of writing, the USD/CAD is trading at 1.3323.
USD/CAD Price Analysis: Technical outlook
From a daily chart perspective, the Loonie (CAD) had continued to strengthen against the US Dollar (USD), as the USD/CAD failed to clear solid resistance in the form of the 100-day EMA at 1.3418 and the 20-day EMA at 1.3420. Nevertheless, the USD/CAD bias is bullish as long as the exchange rates hold above the 200-day EMA, which is meandering around 1.3253.
USD/CAD traders should be aware of a break of a support trendline drawn from the lows of November, which could pave the way for further losses. Oscillators-wise, the Relative Strength Index (RSI) continued its bearish path, while the Rate of Change (RoC) indicates consolidation lying ahead as volatility remains low.
The USD/CAD key support levels would be the 1.3300 figure. A break below, and the USD/CAD could test the 200-day EMA at 1.3253. Once cleared, the pair's next demand area will be the November 15 low at 1.3225, followed by 1.3200.
As an alternate scenario, if the USD/CAD edges up, its first supply area would be the upslope support trendline broken on Thursday at around 1.3330/40. Once reclaimed, the confluence of the 20/100-day EMAs around 1.3418/20 would be next, and then the January 19 high at 1.3520.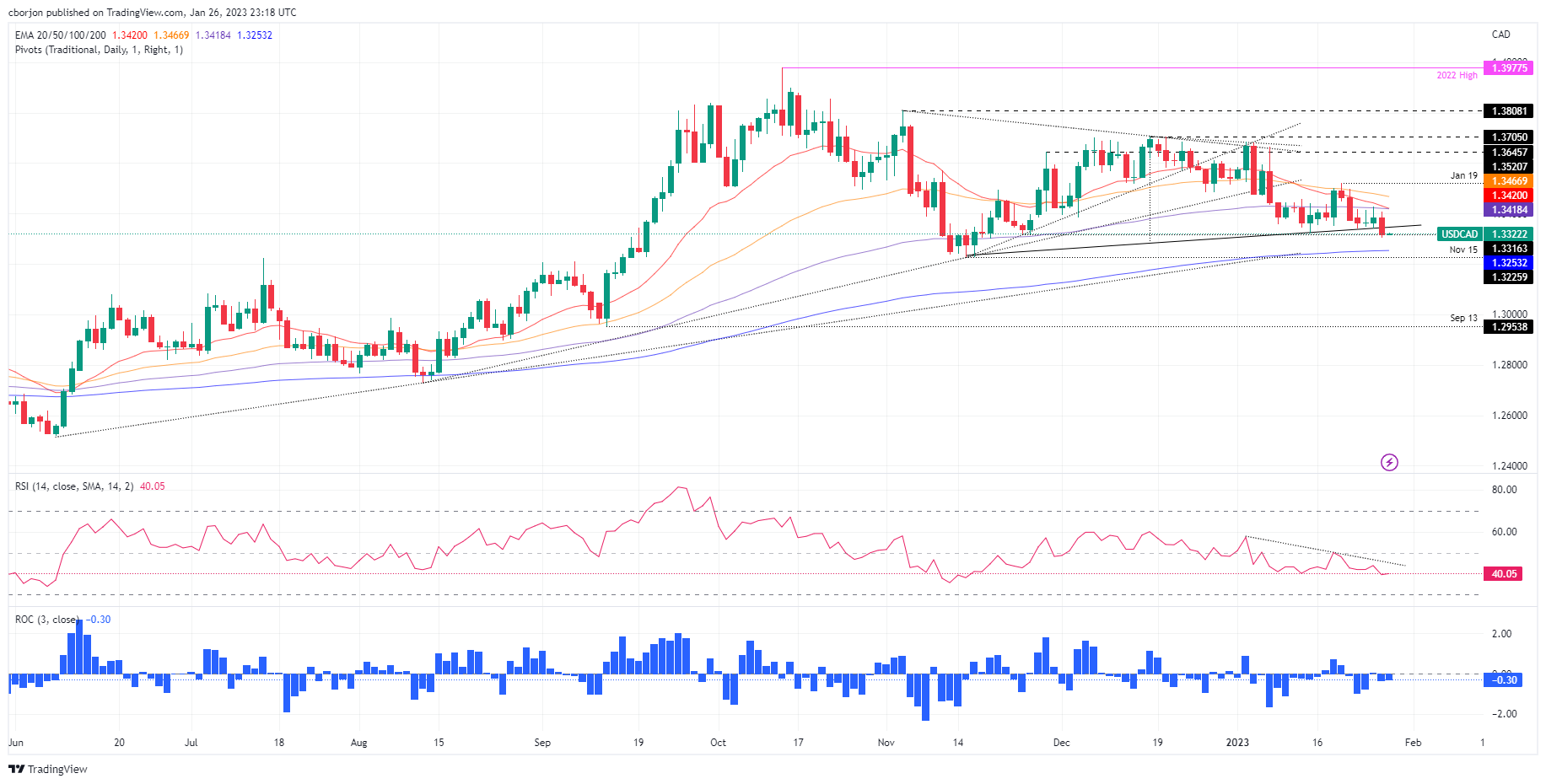 USD/CAD Key Technical Levels